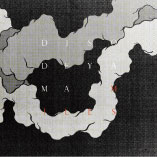 Release date : 14 feb 2011 / Cat No. : apra 001
Format : 12 inch vinyl & digital

Artist : DJ SODEYAMA
Title : MILES

Track :
A1_MILES (original mix)
B1_MILES (Nick Curly remix)

Distributed by wordandsound germany
Early support from Locodice, Matthias Tanzmann, Gregor Tresher, Dubfire, Nic Fanciulli! New Japanese dance music label, ARPA RECORDS is launching as its first release very own label boss DJ SODEYAMA's techno track "MILES". Previously having released on respected labels ZENIT, ANTE ZENIT and more recently on labels ARCHIPEL, KUMO, WE ARE, DJ SODEYAMA's tracks feature a wide range of musical dimensions and have gained much credibility and interest from DJs worldwide. The original mix features ontop of some heavy minimal beats and an expanding rhythm, a poetry reading by Richard Spitzer and a deep but solid synth groove. 8BIT and CECILLE label boss Nick Curly takes the other side into a trade mark remix featuring some long breaks but kept together by some solid groovy rhythms throughout.