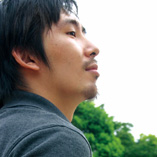 www.generaleffect.com
www.myspace.com/djsodeyama
www.facebook.com/djsodeyama
www.twitter.com/djsodeyama
DJ SODEYAMA
He based on Techno/house diversify and he is DJ also TRACKMAKER who create his own world by his technique and original style. He influenced HOUSE MUSIC when he started Dj in '93. This is his starting line to be a dj. Around '99 he switched to Techno and began to make his MUSIC in '03.
'06 April, released a much-wanted his 1st Album"Metal Heart" from his new label"u-ropa".That was absolute remarlable dancemusic album for music lovers who loves real music.
'07 Feb, he entered into "ZENIT" this is MARCO CAROLA released from, and he released "ANTE39" "ANTE40" from ZENIT sub-label,and "M.HE.P" from ZENIT in a row. Worldwide djs now playing.
'07 July, released his 2nd Albun "DUAL", this album proved his Design of Sound and High quality.
'08 september, he run his own label "NO:MORE REC".and he released his REMIX ALBUM『THE REMIX』including 12 artist remixes. and His E.P "NOW IS THE TIME" was released from ARCHIPEL from vogue canadian lable which LOCO DISE, JOSH WINK support in December. It was supported by many djs such as LAURENT GARNIER, LUCIANO, MATHIAS KADEN, NICK CURLY, GLIMPSE.

JOIN HIS WORLD AND FEEL HIS GROOVE!!